Question Time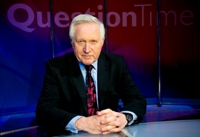 David Dimbleby
Aberystwyth University's Arts Centre will host BBC One's political debate programme, Question Time on Thursday the 17th of November.

Joining the presenter, David Dimbleby will be Housing and Local Government Minister and Conservative MP for Welwyn Hatfield, Grant Shapps; Shadow Immigration Minister and Labour MP for Rhondda, Chris Bryant; Plaid Cymru Welsh Assembly Member for Ceredigion Elin Jones; Guardian Columnist Will Hutton, and Political Economist and Commentator Sir Simon Jenkins.

Professor April McMahon, Vice-Chancellor of Aberystwyth University commented: "I'm pleased we are able to welcome Question Time to our University and look forward to what promises to be a lively debate.  Aberystwyth University is renowned for its Department of International Politics, the first department of its kind in the world, so it seems especially appropriate that we are hosting popular political debate of this kind. I am sure our students, colleagues and local people will look forward to engaging with the panellists while they are in Aberystwyth."

The programme will be filmed at the award winning Aberystwyth Arts Centre, one of Aberystwyth University's departments, and Wales' largest arts centre which is recognised as a 'national flagship for the arts'.

The programme will be broadcast on BBC One at 22:35pm, and will be available on BBC iPlayer after transmission.
AU27711