A new Strategic Alliance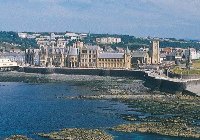 Aberystwyth University
Aberystwyth and Bangor Universities will announce a new Strategic Alliance on Wednesday 7th December that signals a new phase in the partnership between the two institutions.
The new alliance will build on the successful HEFCW funded £10.9m Research and Enterprise Partnership which was established by the two universities in 2006.
Set a target of generating £11m of additional research funding over a period of 5 years, the Research and Enterprise Partnership will report on Wednesday that it has in fact generated £53m of additional research funding.
This represents 481% of target and has been achieved in the form of new joint research projects, funding brought in by new appointments or as a result of workshops and meetings, which have brought together existing academics from both universities.
The new Strategic Alliance is already beginning to broaden and deepen the partnership between the two universities into areas such as joint strategies in Teaching and Learning, Innovation and Engagement, widening access and regional planning.
Shared services will also be developed in a number of areas, the most advanced being Welsh language services, human resources and careers and employability.
Professor April McMahon, Vice-Chancellor of Aberystwyth University said: "The signing of this new Strategic Alliance represents a major milestone in the excellent relationship that exists between Aberystwyth and Bangor universities. Over the years both institutions have become and will remain the "best of friends"; we engage positively with each other in our shared interests and towards our shared goals, yet still maintain a friendly rivalry. This relationship allows us to develop initiatives that will ensure the mutual success of both institutions and have an increasingly beneficial impact of the various communities we serve."
Professor John G. Hughes, Vice-Chancellor of Bangor University and Chair of Higher Education Wales said: "Following the recent announcement from the Minister for Education and Skills regarding the future shape of Higher Education in Wales, the signing of this new strategic alliance between Bangor and Aberystwyth reflects his view and signals our intention to continue working closely together over a broader range of issues, to the benefit of both institutions. Both north and mid Wales face a number of challenges, particularly as a result of the current economic climate. Our two Universities are very well placed to help improve the lives of everyone in these regions, and I look forward to working with the Welsh Government to do exactly that."
AU29911