New Pro Vice-Chancellor appointed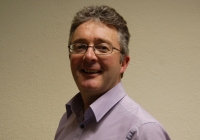 Professor John Grattan
Aberystwyth University has appointed Professor John Grattan to the post of Pro Vice-Chancellor for Learning, Teaching and Employability.
Professor Grattan joined Aberystwyth University in 1995 when he was appointed as Lecturer within the Institute of Geography and Earth Sciences. An expert in geohazards and volcanoes, he is a Fellow of the Royal Geographical Society, an expert member of the International Volcanic Health Hazard Network and Editor-in-Chief of the Journal of Archaeological Science.
Professor Grattan was appointed as the Dean of Science in 2010 and has been increasingly involved in the strategic management of the University.
Speaking on the appointment to the role of Pro Vice-Chancellor, Professor April McMahon, Vice-Chancellor of Aberystwyth University said: "I'm delighted that John will be taking up post in January as the new Pro Vice-Chancellor for Learning, Teaching and Employability. This is an important new role within the senior team, created to support the development of our students and staff and to strengthen our focus on employability and graduate skills and opportunities. I look forward to working with him over the coming years."
Professor Grattan said: "I'm delighted to be offered this role and look forward to further developing our learning and teaching and ensuring that our graduates are fully supported by the development of their academic studies and a diverse range of transferable skills which will enhance their employability and future chosen careers.
"I came to university as a mature student and believe passionately that the experience should change people's lives, it certainly changed mine!"
Professor Grattan takes up the post in January 2012.