New academic positions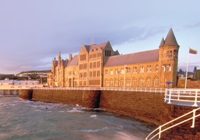 Aberystwyth University has announced today, Tuesday 7 February 2012, the creation of 27 new academic positions at Lecturer, Senior Lecturer, Reader and Professorial level.
The announcement represents a significant investment and a firm commitment to the further development of Aberystwyth University's academic departments and student experience.
Professor April McMahon, Vice-Chancellor of Aberystwyth University said: "This is one of the most ambitious recruitment campaigns for new academic staff ever undertaken by Aberystwyth University."
"As a University that is celebrating its 140th birthday, we cherish our history, but look resolutely to the future, a future which we are shaping together with our students and staff. Our priorities are to enhance and advance our international reputation, based on cutting edge, interdisciplinary research in a broad range of academic areas, together with the provision of world class opportunities for learning and teaching."
"The University's celebrated strengths are the result of the passion and commitment of an exceptional community. These 27 academic posts represent and invitation to join a world class university in a world class environment and help us as we shape our future," she added.
The posts cover the academic disciplines of Geography and Earth Sciences; International Politics; Computer Science; History and Welsh History; Theatre, Film and Television Studies; Psychology; Management and Business; Sport and Exercise Science; English and Creative Writing; and Law and Criminology.
Further information on the posts will appear online at www.aber.ac.uk/hr on Thursday 9th February.
AU2512