Senior appointments made to Aberystwyth University's Council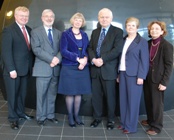 Dr Tim Brain (Treasurer), Dr Glyn Rowlands (Vice-President), Professor April McMahon (Vice-Chancellor), Sir Emyr Jones Parry (President), Miss Gwerfyl Pierce-Jones (Vice-President), Mrs Elizabeth France (Vice-President).
Dr Tim Brain is appointed to the role of Treasurer whilst Miss Gwerfyl Pierce Jones and Dr Glyn Rowlands take up the posts of Vice-Presidents.
Welcoming the new members to their roles, Sir Emyr Jones Parry, Aberystwyth University's President said: "I am delighted to welcome Tim, Gwerfyl and Glyn to these strategically important roles within the University's Council. We look forward to working together with the Vice-Chancellor to build on Aberystwyth's prestigious and accomplished history. Aberystwyth will continue to be a leader in world class teaching and learning whilst also offering a first class student experience."
Dr Tim Brain OBE QPM BA PhD FRSA CCMI was Chief Constable of Gloucestershire from 2001 until 2010, retiring as the longest serving chief constable in the country. Before joining the Police he was a student at the University of Wales, Aberystwyth, from 1972 to 1978 where he read history, obtaining a first class honours degree in 1975 and his PhD in 1983. Dr Brain was honoured as a Fellow of Aberystwyth University in 2007.
Dr Glyn Rowlands is also an alumnus of Aberystwyth University with a BSc and PhD in Chemistry. He developed a highly successful career in science and management, before becoming a business consultant advising numerous blue chip companies. Dr Rowlands was honoured as a Fellow of Aberystwyth University in 2000.
Miss Gwerfyl Pierce Jones, an alumna of Bangor University, started her career as a lecturer in the Welsh Department at St David's University College, Lampeter. Her contribution was recognised when she became a Fellow of Lampeter University in 2008. She subsequently held posts in arts administration with the Welsh Arts Council, the Academi and the Welsh Books Council. She served as Director and chief executive of the Welsh Books Council from 1987 until her retirement in 2009.
Professor April McMahon, Aberystwyth University's Vice-Chancellor, echoing Sir Emyr Jones Parry's comments said: "Effective governance is crucial to the health and development of a university. I am particularly pleased to see that Aberystwyth is able to attract Council members of such a high calibre and I look forward to working with them to further develop our Institution for the benefit of our students, staff and the local community."
The appointments, which are made for a period of five years, come as the posts of Treasurer and a Vice-President are vacated by Richard Morgan and Winston Roddick QC, both of whom served for two terms.
Sir Emyr Jones Parry added: "I'd like to thank both Richard and Winston for their support and their services to the Council and Aberystwyth University; their considerable contribution is greatly appreciated."
The new Vice-Presidents join Mrs Elizabeth France who was appointed to the role in 2007.
AU2712