An evening with Lord Elystan Morgan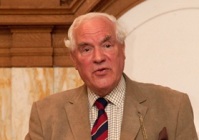 Lord Elystan Morgan
On Friday 10 February 2012, Lord Elystan Morgan will be sharing his experiences of life in Westminster and discussing the challenges currently facing political leaders at the British and Welsh levels.
This special event will be held in the Main Hall, Department of International Politics, at 5.30pm, with a wine reception to be held in the foyer of the building from 5.00pm onwards.
Lord Elystan Morgan was the Member of Parliament for Cardiganshire (Ceredigion) from 1966-74, a Minister in the Home Office, and the President of the University of Wales, Aberystwyth, from 1997-2007.
The event is organised by the Aberystwyth Welsh Politics Society and all are welcome to the reception and following discussion. The event will be held in Welsh with simultaneous translation facilities available. Questions may be asked in English or Welsh during the discussion period.
For further details please contact Einion Dafydd eed09@aber.ac.uk