'Heroes and Villains'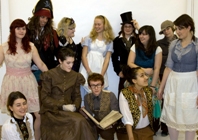 Some of the characters that appear in 'Heroes and Villains'.
A group of students from the School of Art and will be running a series of free workshops during February half term at Ceredigion Museum.
Every day will be themed on a different story that celebrates the Victorian imagination, including Alice in Wonderland, Peter Pan and Fairy Tales by the Brothers Grimm.
The week, called 'Heroes and Villains', will be launched with Victorian Games on 11th February. Art workshops will run twice daily between 13th and 18th February. Workshops range from pop-up paper craft to weaving to fabric printing, and are suitable for all ages.
"Last year we created 'Coastal Explorers' and it was a real success," said third year Art History student Jen Loffman. "This year it will be even bigger and even better. There will be fancy dress, lots of fun activities, and a Storyteller will be in attendance this time."
"All are welcome to meet the Story Maker on her hunt around the Museum for missing objects and at 1pm every week day you can listen to the Storyteller bring the stories to life.
"The Museum is a great place to have fun. The Ceredigion Collection is ideal because it is made up of intriguing objects donated by real Victorian families from Aberystwyth.
"This week provides a fantastic opportunity for everyone to be hands-on with the collection.
"It contains a pocket-watch like the one the White Rabbit had, and a spinning wheel like that of Rumpelstiltskin's, and much, much more. The Museum is the perfect place to get lost in your imagination."
The plan for the week:

Morning workshops: 10.30am – 12pm Afternoon workshops: 2pm – 3.30pm

Storyteller: 1pm

Sat 11 – Victorian Games
Mon 13 – Alice in Wonderland Pop-Ups
Tues 14 – Valentines Gifts with Snow White
Wed 15 – Rumplestiltskin Weaving
Thurs16 – Plasticine Sculpture with Hansel and Gretel
Fri 17 – Peter Pan Shadow Puppets
Sat 18 – Fabric Printing with Oliver Twist
To book a workshop phone Ceredigion Museum on 01970 663088. Places are limited to 15 per session.
AU2212