A Future for Policing in Wales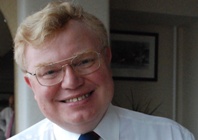 Dr Timothy Brain
It is time to devolve policing in Wales to the Welsh Government according to the former Chief Constable of Gloucestershire Dr Timothy Brain.
Dr Brain will put the case for devolving policing in a guest lecture at the Centre for Welsh Legal Affairs Annual lecture which is being organised by the Department of Law and Criminology at Aberystwyth University on Thursday 23 February. The lecture takes place at 7.00 p.m. in room C22 in the University's Hugh Owen Building.
Speaking ahead of the lecture, Dr Brain said: "The decision not to devolve policing may have been sound enough when devolution first happened, but with the maturity of the Welsh Government, which after all looks after such important functions as health and education, there is no longer any reason for not devolving policing as well."
"The arguments against no longer stack up. England and Wales share the same legal system, but that's no reason for not devolving policing, especially since the Ministry of Justice has already split away from the Home Office. Coordination of national security is important, so is cross border collaboration and cooperation, but that could be achieved by leaving the Home Secretary some residual powers.
"With the Conservatives and Liberal Democrats both committed to 'going local', why should the people of Wales have less say in policing than those of Jersey, Guernsey or the Isle of Man, much less Scotland, where policing has always a devolved function.
"But what would be the benefits for Wales if policing was devolved? First, Welsh Government ministers are intrinsically more local, with a greater understanding of local policing needs and expectations. Second, democratic choice. The people of Wales have a straightforward right to have a greater say in something so fundamental as policing."
Professor Noel Cox, Head of the Department of Law and Criminology said: "I am very happy to welcome Dr Brain to give the annual lecture of the Centre for Welsh Legal Affairs. The future of policing in Wales is an exciting but challenging one, and we are privileged to be able to hear the perspective of someone with his experience."
Dr Timothy Brain was Chief Constable of Gloucestershire from 2001 until January 2010, having previously served in Avon and Somerset, Hampshire and the West Midlands. He was ACPO's (Association of Chief Police Officers) national lead on finances and led several high profile operations notably Gloucestershire's response to the extensive flooding of 2007.
He is a frequent speaker, writer and broadcaster on a variety of police subjects including police futures, strategic leadership, finance, and police history. He has visiting professorships at Gloucestershire and London South Bank universities, holds honorary fellowships at Cardiff and Aberystwyth universities, and is honorary LLD at the University of Gloucestershire. He is Treasurer of the Council of Aberystwyth University. His book A History of Policing in England and Wales from 1974 was published in March 2010.
AU3712