Record numbers use sports centre on campus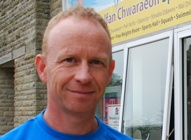 Frank Rowe, Director of the University's Sports Centre.
The University's Sports Centre is celebrating a record year after discovering that its participation figures have increased by 90% for exercise classes (Fit Together) compared to the same period last year.
Not only are the students making better use of the facilities available but also the local community, who are attending more classes and going to the gym more often.
The vast majority are females who are attracted to the exercise classes with the Zumba dance class being a clear favourite, closely followed by circuit training and bodyfit.
Frank Rowe, Director of the University's Sports Centre, explains, "We are delighted with these figures and that the students, staff and the community are keeping fit and healthy whilst making best use of the facilities and services available.
"It is interesting to note that the number of females keeping fit has risen dramatically. This is down to a host of different factors which include being able to train in a safe environment, to attend a class with a friend or a group and turning it into a social occasion rather than a chore."
The number of people making use of the personal training service available on campus has also increased significantly by 70% over the same period, which demonstrates that people are investing more time and money into their fitness and wellbeing.
Frank adds, "Taking part in physical exercise is well known for its physical, mental and health benefits, in addition to the social benefits engendered by nurturing and forging friendships. Experience the buzz for yourself - we are open seven days a week and have sessions from early morning to late at night."
AU4912