New BEACON Research Centre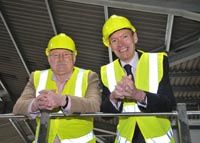 Prof. Wayne Powell, Director of IBERS (Left) and John Griffiths AM.
Environment Minister, John Griffiths, has today visited a new facility which will collaborate with local companies to develop green business technologies and opportunities. The BEACON initiative, the first of its kind in Wales, has its centre at Aberystwyth University.
It will help Welsh businesses develop new ways of converting crops such as rye grass, oats and miscanthus (elephant grass) into products including pharmaceuticals, chemicals, fuels and cosmetics.
The facility at Aberystwyth University's Institute of Biological Environmental and Rural Sciences (IBERS) houses large-scale equipment capable of taking laboratory research to economically viable industrial opportunities. 
BEACON is led by Aberystwyth University in collaboration with partners at Bangor and Swansea Universities. It is backed with £10.6 million from the European Regional Development Fund through the Welsh Government.
Environment Minister, John Griffiths, said:
"I was pleased to have the opportunity to tour this first facility of its kind in Wales. It offers a great opportunity for Welsh companies to work with Welsh universities to develop green business opportunities. I look forward to hearing how the facility develops and what products are launched on to national and international markets as a result of this innovative venture."
The Environment Minister was given an exclusive preview of the facilities, which are due to be officially launched later this month. Mr Griffiths toured of the construction site and met with Aber Instruments, a local company working with the BEACON team. Aber Instruments CEO Jeff Davies said:
"Aber Instruments is a biotechnology company with a global market reach and its involvement in BEACON is regarded by the company as a significant success regarding its future expansion. Links with one of the UK's premier research institutions have been strengthened through the peer reviewed publication of high impact studies. The effective collaboration has enabled Aber Instruments to explore new market potential and gain an early foothold in the new and growing worldwide production of biofuels and bioproducts. Overall, this is an exciting opportunity to explore new markets and increase the capabilities of AI's core biotechnology."
Professor Wayne Powell Director of IBERS said:
"We are delighted to be leading this partnership project that has the potential to provide benefits for agriculture and industry across Wales and beyond. This new facility is a significant development here at Gogerddan and we hope to attract more companies to work with us to enable BEACON research to develop into practical benefits for business. By collaborating and applying the joint expertise of our three universities, we can make a significant contribution to finding alternatives to oil and responding to a huge global challenge."
AU6012