Could you be a poo-ologist?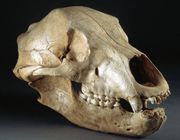 One of the many delights facing school pupils attending the Festival of Science at Aberystwyth University next week (13-15 March 2012) will be a 'match the muck' test where the children pair animal waste to their skulls.
As well as finding out whether they have what it takes to be a poo-ologist, or a scatologist as its officially known, those attending the festival will also have the opportunity to take part in live experiments with peas and plants to real hands-on encounters with worms and wild animals.
Event organiser Roger Morel from the University's Centre for Widening Participation and Social Inclusion said, "We will have a real mix of exhibits here at the festival and the students will I'm sure enjoy the experiences on offer which will range from understanding robots and rollercoasters to mixing liquids and making their own 3D glasses.
"The most intriguing stand has to be the excrement collection where students will need to match the elephant, bear or giraffe skull with the right muck! We can learn a great deal about an animal and their digestive system from what they eat."
There will be around 28 exhibits at the festival which includes University's science departments, Ceredigion County Council, Dulas Engineering, Statkraft, the Centre for Alternative Technology (CAT) and the Royal Society of Chemistry.
This is a three day Festival of Science organised by Aberystwyth University as part of the 2012 National Science and Engineering Week. This is Wales' and the UK's widest grassroots celebration of all things science and engineering.
More than a 1000 school pupils from over 20 schools in Ceredigion, Powys and Gwynedd have already signed up for the festival which takes place at the Sports Cage on the University's Penglais Campus.
Event organisers are also extending a warm invitation to members of the public with the Wednesday session remaining open until 6 in the evening. Opening hours on Tuesday and Thursday are 9.30 a.m. until 3 p.m.
AU6112