From the Commons to computing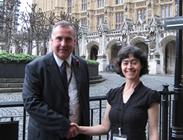 Mark Williams MP last week (Friday 9 March) swapped legislation for automation when he spent the day with Dr Amanda Clare at the University as part of a unique pairing scheme run by the Royal Society - the UK national academy of science.
Dr Clare, a Computer Science lecturer at the University, was on hand throughout the day to explain and demonstrate the University's cutting edge research and its applications.
Mark Williams also joined Dr Clare in giving a lecture to the students about the many roles of science and technology in Westminster, and how it's important that scientists make their expertise available to help policy makers.
Having already spent a week in the Houses of Parliament as part of the scheme, this provided Dr Clare with a valuable insight into how science policy is formed and the working life of an MP.
Dr Clare explained "Learning about the processes involved in policy making at Westminster was an illuminating experience for me as a scientist. MPs in Parliament continuously deal with difficult questions on a huge range of topics and they need good quality information to help them do this. I was also particularly impressed by the openness of the Houses of Parliament to the public by allowing access to debates, reports and meetings."
Mark Williams MP added "This day has provided me with a wonderful opportunity to appreciate and understand the exciting work that is taking place at the University and the important role that science and scientists play."
The Royal Society's MP-Scientist pairing scheme aims to build bridges between parliamentarians and some of the best scientists in the UK. It is an opportunity for MPs to become better informed about science issues and for scientist to understand how they can influence science policy. Over 180 pairs of scientists and MPs have taken part in the scheme since it was launched in 2001.
AU5412