New prospectus published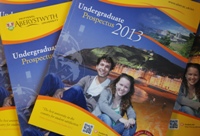 The Aberystwyth University has announced the publication of the new prospectus for entry in 2013.
Earlier in the year, the demand for places in 2012 was so buoyant, that this popular university had to close all its courses to new Home and European applicants who applied after the UCAS deadline of 15 January.
Professor Martin Jones, Pro Vice Chancellor, explained: "Although we live in an increasingly technological age, there is still a significant need for traditional published media. With the increase in applications we have had to print more copies of our prospectus year on year so great is demand."
This year, Aberystwyth University has pioneered the introduction of QR (quick response) codes in the undergraduate prospectus.
These codes enable people with smart phones to scan a special bar code which then provides a direct link to a website or to a video presentation.
Aberystwyth will be amongst the first universities in the UK to publish a 'QR friendly' prospectus.
Professor Jones explained, "QR codes represent a significant new development which will reinvigorate a relatively static media like print. Presentations on particular areas such as academic life, social, cultural and teaching facilities and course descriptions, will be enhanced through the addition of this technology. QR codes will add an exciting new interactivity into our traditional prospectus and enable connectivity across a broad range of media."
"Applicants will now be able to not only read about the superb student experience available to them at Aberystwyth, but also to view relevant new-media presentations."
For a copy of the new prospectus, contact ug-admissions@aber.ac.uk or visit www.aber.ac.uk.
AU2112