Traveller from an antique land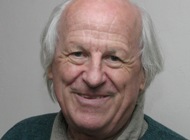 Wales Book of the Year Author, Ned Thomas, will be attending the Department of English Literature and Creative Writing's annual Postgraduate Conference held at the National Library of Wales on the 25th to the 27th of April 2012.

He will be one of the plenary speakers at the conference and will be giving a talk entitled "Traveller from an antique land" which will look at the Welsh people (and other minorities) both as perceived by others and as perceivers of other places.
In 2011, Ned's Welsh language memoir Bydoedd, which records his varied career as a writer, journalist, academic and publisher, was named Wales's Book of the Year.
He has worked for Times Newspapers, edited the British Government's quarterly in Russian, Angliya, founded and edited the journal Planet-the Welsh Internationalist, directed the University of Wales Press, and taught literature at the University of Salamanca, Moscow State University and the University of Aberystwyth, Wales.
In addition, he is the author of studies of George Orwell and Derek Walcott in English, and of Waldo Williams in Welsh. His The Welsh Extremist: a Culture in Crisis was influential in the Welsh-language campaigns of the nineteen-seventies and eighties and he himself played an active part in the campaign for a Welsh TV channel.

He is currently Honorary President of the Mercator Centre in the Department of Theatre, Film and Television, University of Wales Aberystwyth. The Centre runs projects on media in minority languages, on the promotion of Welsh Literature Abroad, and the Literature Across Frontiers programme which promotes translation and exchange across cultures in Europe and beyond
His plenary address is just one event scheduled as part of the Department of English and Creative Writing's 2012 Postgraduate Conference: "Are We There Yet? Remapping Literary Imagination".
Other plenary speakers this year will include the National Poet of Wales, Gillian Clarke, the head of Aberystwyth University's English and Creative Writing department, Professor Damian Walford Davies and the director of the English Department's Centre for Women's Writing and Literary Culture, Dr Sarah Prescott.
Those who wish to attend the event should contact Ollie Bevington (odb09@aber.ac.uk) or Ashley Hill (anh11@aber.ac.uk ). For further information, please visit the conference's website at http://www.aber.ac.uk/en/english/conferences/.
Abstracts of 200-300 words for papers of 15-20 minutes are invited from early career researchers, postgraduate students and third-year undergraduates working in literary studies, creative writing, literary theory, and associated disciplines. Topics might include, but are not restricted to:
-Breaking down boundaries in poetry and prose
-Literary journeys, travel writing
-Minority experience in society
-Alienation, assimilation
-When genres collide
-Marginalised cultures and writing

Deadline for Paper Abstracts: 23 March 2012. Registration forms to be submitted by 10 April.

AU5512