Keats' "stubble plains" revealed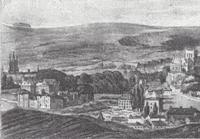 Illustrated frontispiece, 'View from St. Giles's Hill', engraving from Charles Ball, An Historical account of Winchester, with descriptive walks (Winchester, 1818), based on an aquatint by C. F. Porden.
Archival discoveries by researchers at Aberystwyth University suggest that lying beneath the autumnal mellowness of one of the nation's best-loved poems, John Keats's ode "To Autumn", is a murkier world of banking crisis, rising prices and striking workers.

The previously unseen documents also suggest that the traditional site of the famous "stubble-plains" in "To Autumn" should be revised.
Long believed to describe the picturesque water-meadows lining the River Itchen, Keats's cornfields are more likely, the researchers argue, to portray the west-facing slopes of St Giles's Hill, overlooking Winchester from its eastern extremity.
Generations of fans swooning along the "Keats Walk" may have been lead - literally - up the garden path by previous scholarly studies.

When Keats arrived in Winchester in summer 1819, he did so in the midst of rising tensions over corn prices and agricultural working conditions.
Bankers-turned-landowners were snapping up grain-producing land in Winchester to exploit high bread prices and a glut of labour (due to men returning from the Napoleonic Wars).
The slopes of St Giles's Hill had recently been turned over to corn – and it is these that Keats would have seen when he climbed the popular tourist spot. England's most famous field now lies under a multi-storey car park.
The paper Keats, 'To Autumn', and the New Men of Winchester is published in the current edition of The Review of English Studieshttp://res.oxfordjournals.org/content/early/2012/03/12/res.hgs021.full?etoc.
The authors are Professor Richard Marggraf Turley and Dr Jayne Archer of the Department of English and Creative Writing, and Professor Howard Thomas from the Institute of Biological, Environmental and Rural Sciences.
AU8812