Inspiring alumni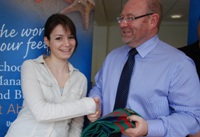 School of Management and Business student Alexandra Gencheva presents a University scarf to George Ashworth of Aldemore Bank.
On the day when the Chancellor of the Exchequer was delivering the 2012 Budget, students at Aberystwyth University's School of Management and Business were receiving a master class in commerce from leading financier George Ashworth.

An Aberystwyth University economics graduate, George is Managing Director of Asset Finance at Aldermore Bank, one of only five financial institutions to have signed up to the UK Government's new  National Loan Guarantee Scheme.

Sixteen SMB students attended the morning workshop which focused on exploring George's career within the financial sector to help students to develop their understanding of the key employability attributes and skills they need to be successful.

With the emphasis on understanding the real challenges faced by business, the students were set a challenge of their own; to prepare a creative solution to a current business scenario at Aldermore Bank.

The winning team of Nathan Mears, Alexandra Gencheva, Xiang Li and Helen Froelich will now spend a day at Aldermore Bank's headquarters in Reading, a visit that includes an overnight stay in a hotel, courtesy of the company.

After the workshop, George gave a presentation on Successful Business in Difficult Times as part of the Distinguished Alumni Lecture Series which is organized jointly by the School of Management and Business and the University's Careers Service.
Speaking of his return to Aberystwyth, George said:
"I'm delighted to be involved with the School of Management and Business and to have been invited back to my former university to give a presentation and share some of the experience I have gained over the years. It is a pleasure to be able to give something back to the University.
"The day has been illuminating. I have been impressed by the general quality of the students and pleasantly surprised by the international make-up of the group. They have shown an excellent understanding of business issues and of the current economic situation generally."

Steve McGuire, Professor of Management and Director of the Centre for International Business and Public Policy at the School of Management and Business said; "Aberystwyth University is blessed with very successful alumni working in key positions within industry and government and it is terrific to be able to welcome someone like George back to Aberystwyth to share his experience.

"His work with the students has brought to life some of the real challenges faced by businesses and how the theory they have studied is translated into practice. It has also been an excellent opportunity for the students to showcase their skills, talents and enthusiasm to someone at the top of their game."

Carolyn Parry, Acting Deputy Director of the University's Career's Service said:
"The importance of giving our students an opportunity to meet with and learn from successful alumni such as George Ashworth cannot be overstated. Getting distinguished alumni who are employers to contribute to the curriculum makes a huge difference to students' understanding of what they need to be doing for their future success."
"George's story is clearly inspirational and has enabled those who have been part of this session today to recognise the talents they have within themselves."
AU8712