Comparing the accents of English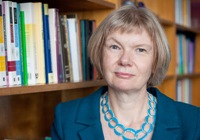 Aberystwyth University Vice-Chancellor, Professor April McMahon, is to give the Sir D O Evans lecture for 2012, comparing the accents of English, past and present.
The Lecture, which is open to the public, will be delivered on Wednesday, 28th March at 6pm and will be held in the main hall at the Department of International Politics at Aberystwyth University.
Professor McMahon will discuss whether linguists can develop methods for comparing accents and measuring the differences between them.
Professor McMahon notes that; "It sometimes seems that the way we speak is as important as what we say, so understanding how accents differ from one another and how they change is as intriguing for a general audience as for academic researchers.
"We are also very lucky that we know so much about the history of English, and I will be talking about how we can reconstruct the way people spoke long ago and make comparisons with the modern English of today".
The Vice-Chancellor's own academic discipline is linguistics. Her research has focused on comparisons between various English accents, with a particular interest in Scots, how and why languages change, interdisciplinary approaches to family relationships between languages, and the implications of encroaching majority languages.
Appointed in January 2011, Professor McMahon joined Aberystwyth University in August last year from the University of Edinburgh where she was Vice-Principal Planning, Resources & Research Policy.
She has also authored and co-authored a number of books and is co-editor of the journal English Language and Linguistics. She is a Fellow of the Royal Society of Edinburgh and of the British Academy.
Professor McMahon added; "Public lectures are a vital part of the University's engagement with our local community, and we are trying out different venues, publicity and arrangements for our lectures this year, to show local people that they can expect a warm welcome – and I hope, an interesting evening".
AU7812