FLUX 2012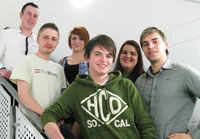 Aberystwyth University's FLUX 2012 team.
A team of six Aberystwyth students will be competing for the title of 'FLUX National Champions' at FLUX 2012, Britain's premier Inter-University Enterprise challenge competition from 27th – 28th March in London.

The Aberystwyth team will spend 36 hours competing to solve real business problems with experts from some of the UK's most dynamic companies, judging them in Apprentice meets Dragon's Den-style pitches and challenges.

"The competition is a great chance for students to improve their enterprise and employability skills, gain experience and network with potential employers" explained Tony Orme, Enterprise Manager. 

To secure a place in the team, students were challenged to come up with a business concept, based on a set scenario and present the business idea to the selection panel.  Nineteen students from across the University took part from a range of departments.

The team, who will be supported at the event by two of our Student Enterprise Interns, Warwick Wainwright and Xiang Li, are as follows:
Alex Shone (Department of Computer Science), Andrius Kantrimaricius, Anneka Page, Danielle Bentley, James Wheldon and Peter Hamilton-Gray (School of Management and Business).

Further information:
FLUX 2012 is organised in partnership by The Working Knowledge Group and the National Association of College and University Entrepreneurs (NACUE); this year's competition is being held at Ravensbourne College in London.
AU8612