Major research grant awarded
03 April 2012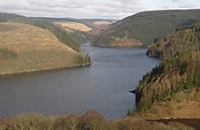 The importance of river organisms to the function and economic value of Wales' river ecosystems is to be investigated by a team of around 30 scientists which includes Dr Mike Christie from Aberystwyth University.
The investigation will range from small catchments around Llyn Brianne in central Wales to the whole Welsh uplands. The team will look at the role played by biodiversity in preserving the quality and wildlife of Welsh rivers and the many livelihoods that depend upon them.
Named DURESS (Diversity of Upland Rivers for Ecosystem Service Sustainability), the £3 million project forms part of the £13 million Natural Environment Research Council (NERC) Biodiversity and Ecosystem Services Sustainability (BESS) initiative. BESS is investigating the role of biodiversity in maintaining and improving ecosystem services – goods and functions provided by nature on which peoples' lives and livelihoods depend.
Dr Christie, from the University's Institute of Biological, Environmental and Rural Sciences (IBERS), will evaluate the economic impacts that land use and climate changes in upland rivers systems will have on people's lives and livelihoods. He will explore how changes in the river system might impact both recreational and commercial fishing, as well as how it might affect people's more general enjoyment of rivers.
His analysis will also include an assessment of how land use changes might affect river water quality and hence impact on the costs of providing clean, safe drinking water. Dr Christie said, "It is important that we understand how different land management options affect river water quality and people's enjoyment of those rivers. The new knowledge that DURESS will generate will help us better manage rivers in the future for the benefit of all."

At a time when rivers face critical challenges from changing land use and climate, DURESS aims to quantify how river organisms might regulate water quality, enhance fish production and underpin culturally valuable assets such as fishing or river birds

• determine how river ecosystem services are affected by changes in land use and climate
• address how resilient river ecosystems are to changes over time from months to decades

Wales was considered ideal for the project because its rivers are particularly highly valued as some of Britain's cleanest. The country is extremely rich in the types of scientific data required and excellent river science is already well established. Cardiff University last year led the freshwater aspects of the UK Government National Ecosystem Assessment, making it an ideal candidate to take forward this research.

Researchers from Cardiff University's School of Biosciences and Sustainable Places Research Institute will lead a team which will also include Lancaster University, Queen Mary University London and Aberystwyth; the British Trust for Ornithology; the NERC Centre for Ecology and Hydrology, Forest Research and NHS Wales; and the specialist freshwater consultancy, APEM Ltd. The consortium is headed by Dr Isabelle Durance, senior research fellow in Cardiff's Sustainable Places Research Institute, who spearheaded the proposal.

"We all need clean water, and the UK water infrastructure is valued at over £200 billion," said Dr Isabelle Durance. "Yet, we so often overlook the value of the catchments that supply our water. Even more, we overlook the processes carried out by billions of river organisms that together help to maintain water quality. These same organisms are part of an intricate web of life that fuels everything from Atlantic salmon to dippers and otters, yet we still know very little of how different parts of this web fit and function together."

The pioneering project has already won active support from a wide range of partners, including the Welsh Government, Environment Agency, Countryside Council for Wales, Forestry Commission, Dwr Cymru/Welsh Water, the RSPB and the Welsh Rivers' Trusts (Afonydd Cymru). Welsh communities will also be consulted widely during the project.

Head of Cardiff School of Biosciences and Chair of the Biological Sciences panel for the Research Excellence Framework, Professor Ole Petersen said "Wales' rivers are a major asset to its population. This is a vitally important ecological and environmental project which will have a bearing on people's lives and livelihoods."

The project, which will start in May 2012, was won against fierce competition from around 30 other submissions of which only four were eventually funded.
AU9912
Back to the top