Drawing award for student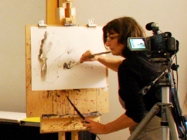 Maria Hayes, a Fine Art PhD student at the School of Art at Aberystwyth University, has won a Drawing Inspiration Award which is presented to innovative and engaging drawing events.
The Award, given to the best artist-led workshop, can last up to a month and forms part of the Big Draw. Held across the UK, the event aims to create opportunities to draw through a variety of media and explore diverse subjects.
Maria documented a 12-day workshop held at the Aberystwyth Arts Centre and submitted the evidence to a panel of art experts. The judges were looking for projects that inspired and engaged with the local community and used innovative methods which encouraged people of all ages to draw.
This submission was a unique collaboration between Maria, Aberystwyth University's School of Art and Aberystwyth Arts Centre, which concentrated on drawing movement whilst using Maria's newly developed video projection technique.
She explains; "I'm delighted to have been awarded this prestigious prize and would like to thank my colleagues at the Art School and the Arts Centre for their support and assistance with this project.
"I arranged workshops over a 12 day period, which included a rolling programme of performers, storytellers, musicians and dancers who took to the stage. With the use of a video projector, I then drew their movement and invited the public to do the same, which proved a real success."
Professor John Harvey at the School of Art explains; "The number of visitors who participated in the workshops exceeded our expectation, demonstrating that this event captured the imagination of the public and created an exciting atmosphere at the University. We would like to congratulate Maria on her achievement, and wish her well for the future."
Cath Sherrell, Education Officer at the Arts Centre adds; "We were very pleased to work with Maria as she has developed a way of working which engages people whatever their level of ability. This enabled us to offer the activity to a particularly wide range of participants including members of the general public, college students, secondary pupils, local daycentre members who have physical and learning disabilities and people who attend a local day hospital."
The project, called the Energy Gift Exchange was held as part of Maria's PhD Fine Art exhibition 'Shedding Skins'.
The awards are sponsored by the Barbara Whatmore Charitable Trust and the National Association of Decorative & Fine Arts Societies (NADFAS). The Award ceremony will take place at the Courtauld Institute of Art, London on 17 May 2012.
AU10112