"Acid Up" for Olympic gold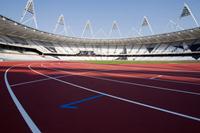 The Olympic Stadium. Credit London 2012.
A sports scientist at Aberystwyth University has found new ways of warming up that can help improve an athlete's performance and make the difference between gold and silver.
Dr Mark Burnley, a lecturer in Exercise Physiology at the Department of Sport and Exercise Science (SES) at the University, has been studying high intensity exercises known as "priming".
Dr Burnley and researchers from the University of Brighton and Exeter, have been studying how priming increases concentration of lactate in the blood, making the blood acidic and ultimately, improving performance.
The work improves performance in any event that lasts from around two minutes up to about 30 minutes.
In an athletics stadium, this means all events from the 800 metres to the 10,000 metres could be improved by priming exercise. Many cycling and rowing events will also be improved by priming exercise.
Consequently, many of the great performances in London 2012 could be achieved by an athlete "primed" by an "acid-up" developed by scientists in UK universities.
"We have been studying priming exercise at Aberystwyth since the SES department was set up in 2002," said Dr Burnley.
"In collaboration with Professor Andy Jones from the University of Exeter and the first SES head of department, Professor Jonathan Doust, who now works at the University of Brighton, we have provided clear evidence of the effectiveness of high-intensity exercise in the preparation for sports performance.
"We have also shown that athletes need not be too concerned about having to wait for a long time between warming up and competition, because the priming effect can last for up to 45 minutes."
This research has been highlighted in a report showing the impact of universities' research and sport development on the Olympic and Paralympic Games and UK sports industry which will be launched today (Wednesday 2 May).
The report, Supporting a UK success story: The impact of university research and sport development, has been released as part of Universities Week (30 April – 7 May) which aims to increase public awareness of the wide and varied role of the UK's universities.
Vice-Chancellor of Aberystwyth University, April McMahon, said, "The work carried out by Dr Burnley is a great example of how research is vital to understanding all aspects of sport, exercise and health. Sport and exercise scientists are playing an ever more significant role within society, often leading the way with developments in sport performance and health sciences."
"Universities Week 2012 is an excellent opportunity to showcase some of the fantastic work universities are contributing to the world of sport, which is especially apt with the Games taking place this year."
The report takes an in-depth look at how exploration and development in the areas of technology, health and wellbeing, design, sport development and participation and the Games past and present, have contributed to London 2012 and the UK sports industry.
From the science behind athlete hydration to the regeneration of East London, home to the Olympic Park, the report takes a journey through the research and sports development that sits behind the lasting impact of London 2012 on the UK.
Throughout the report, issues of endurance sit side by side with examples of urban regeneration and the history of sports medicine to demonstrate the diverse ways in which the whole of UK society benefits from the work of universities linked to the Olympic and Paralympic Games.
Nicola Dandridge, Chief Executive, Universities UK, said: "It is sometimes easy to forget when you watch an athlete or team compete just how much preparation has gone into their performance. This isn't simply a question of training schedules and practice.
"These days, cutting-edge university research is used to support every aspect of Olympic sports – from nutrition and health to equipment, physiotherapy, rehabilitation and of course performance.
"For instance, the combination of design and technology can be immensely effective for top athletes so that the actual design of a kayak or bob-sleigh can be as important to athletes as their own skill and training."
Karen Rothery, Chief Executive Officer, British Universities & Colleges Sport, said: "Sports development within our universities is encouraging greater participation in sport and activity across the student population and within the communities of universities.
"A variety of programmes and the support and development of a supporting workforce in volunteers and officials means that more people have the opportunity to be more active and enjoy the many benefits that brings."
Copies of the full report are available on request from universitiesweek@fourcommunications.com and later for download from www.universitiesweek.org.uk
AU13112