Phys-CHIC making physics more fun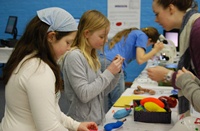 A group of 20 students from Aberystwyth University, which aims to get more youngsters interested and excited about maths and science, will this Saturday (5 May) hold a science fair at the Belle Vue Royal Hotel in Aberystwyth.
The group from the Institute of Maths and Physics (IMAPS), called Phys-CHIC, was formed 18 months ago with the original aim of getting more girls interested in science.
Since then, the group has grown considerably and has extended its offer to reach children of primary and secondary school age. More than 1,500 children have participated in sessions arranged by Phys-CHIC to date.
Clare McLoughlin, a fourth year physics student explains, "We have visited several local schools and youth groups in the county and our sessions are always very hands on and fun, which is important if we want to get more children interested in the subject.
"In the science fair on Saturday, children will be able to participate in activities which will include making motor boats, aeroplanes, 3D glasses, lava lamps and bouncy balls – all of which they'll be able to take home afterwards. "
There will be around 20 stalls on display which will include demonstrations, arts and crafts activities, and a little on the history of IMAPS at Aberystwyth.
AU13012