Public Lectures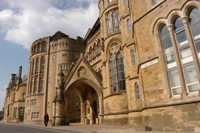 Aberystwyth University will play host to two major public lectures on the 8th and 9th of May, 2012.
On Tuesday the 8th of May, Professor Gruffydd Aled Williams, former Professor of Welsh and Head of the Department of Welsh at Aberystwyth University, will give the annual University of Wales O'Donnell Lecture.
Professor Williams has published widely in the field of Welsh literature, and is a specialist in Medieval Welsh Poetry and the Literature of the Renaissance in Wales.
The lecture, entitled 'Dwy lenyddiaeth, dau fyd: diwylliant yn un o dai bonedd Cymreig y Dadeni', (Two literatures, two worlds: culture in a Welsh Renaissance Gentry House), will be held at Medrus 3 at Penbryn Halls on Penglais Campus at 6pm on Tuesday the 8th of May.
All are welcome to attend.

On Wednesday the 9th of May, Professor Steven King of Leicester University will give a lecture based on the Wellcome Trust funded research project currently being undertaken by Aberystwyth, Swansea, Northumbria and Strathclyde Universities, into the life of disabled people in and around the British coalfields during the Industrial Revolution.
The lecture, entitled '"We must be rid of these waste people": The experiences of the disabled poor in the industrial districts of England and Wales 1790s to 1920s', will be held at Room C22 at the Hugh Owen Building at 5pm on Wednesday 9 May.
Once again, all are welcome.

So why not come to one, or both, of these world class lectures at Aberystwyth University next week?