Navy leadership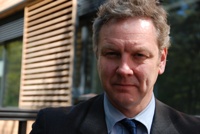 The first handbook on leadership within the Royal Navy to be published in nearly 50 years has been produced by Professor Andrew St George, MBA Teaching Fellow at Aberystwyth University's School of Management and Business.
Three years in the writing with complete access to the Royal Navy at all levels, Royal Navy Way of Leadership has been described by publishers Random House as "the definitive book on leadership in business and in life from one of the UK's foremost leadership practitioners".
15,000 copies of the book are being issued by the Royal Navy to all its officers, senior managers (senior rates), and all its national and international training establishments. It is due for commercial publication in the UK on 7 June.
Four years ago the Second Sea Lord of the Royal Navy asked Andrew St George to spend time with every level of the Navy staff, from junior sailors in the engine room of an aircraft carrier, to handlers of landing craft, through to Royal Marines, ships' commanders, and Royal Navy staff right up to Navy Board and Cabinet level, with the aim of creating a book which distils the Navy's leadership culture.
The book charts that journey – representing the largest piece of research on Royal Navy leadership ever done – and it is the current state of the art leadership framework for the Navy.
"Everything in the book is here because it works, tested over thousands of hours of hard training, rigorous assessment and absolute measurement," said Andrew.
"The book's messages are deceptively simple. In order to succeed we must have: the clarity of intent; the strategy; the resources; a contingency plan; an emotional investment. These tenets stand in all walks of business and personal life: they are from
Nelson's order of battle at Trafalgar."
"The book's insights and their applications are wide-ranging: for industry, for finance, for professional services, for commerce, for academia and for the public sector these methods of planning, executing and inspiring make a tried, tested and effective way of leadership."
Andrew St George will be at the Hay on Wye Festival on 10 June (7pm) talking with the Commandant General of the Royal Marines, General Edward Davis.
Andrew St George
In the past ten years Andrew St George has advised and mentored many FTSE 100 executives, politicians, diplomats and City leaders. He lectures on management and leadership in business at universities, business schools and in the military. He writes on the way certain clear strategies in decision-making and the 'soft skills' in our relations with others can make anyone's life more straightforward, from every part of our working lives to planning a holiday, buying a house or dealing with a domestic crisis.
Educated at Cambridge, Harvard (Kennedy Fellow) and Oxford where he was a Fellow of Christ Church, he is a Professor at the University of Wales, Senior Fellow of Aberystwyth and board member of Swansea University Business School and of LEAD Wales. He is a Trustee Governor of King Alfred's School (Oxfordshire's best-performing state school).
AU14612