All set for Olympic celebrations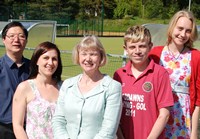 The Vice Chancellor, Professor April McMahon (centre) with Aberystwyth University's Olympic Torchbearers (left to right) Qiang Shen, Bridget James, Shon Rowcliffe and Susanna Ditton.
With only a few days to go before the Olympic Torch arrives in Ceredigion, preparations are well underway for an evening of entertainment at Aberystwyth University's Vicarage Fields on Sunday, 27 May.
The line-up includes Britain's Got Talent finalists' Twist and Pulse, dance duo and Got to Dance winners of 2011, Chris & Wes, as well as the up-and-coming band Kids in Glass Houses.
The gates will open at 4pm and the show will start at 5pm, lasting for two hours. The evening is free of charge and there is no need to book tickets beforehand.
Among those carrying the torch on the day will be two Aberystwyth University staff members and two students.
Professor Qiang Shen, Head of the Department of Computer Science, Bridget James from the University's Sports Centre and Institute of Geography and Earth Sciences student, Susanna Ditton, will carry the torch in Aberystwyth.
Department of Television, Theatre and Film Studies student, Shon Rowcliffe, will carry the torch through the village of Brynhoffnant.
Around 100 secondary school pupils from Ceredigion are expected to welcome the Olympic Torch along with a musical ensemble, a rock band, storytellers and a 70-strong choir.
People are advised to come early to avoid any possible traffic congestion on the Torch route from Cardigan to Aberystwyth. More information is available on the Ceredigion County Council website www.ceredigion.gov.uk/olympics.
At the end of the perfomrance at 7pm, the last torchbearer of the day will light a cauldron on stage which will enable the audience to see the Olympic Flame.
The venue for the University's rugby, football and cricket teams since 1906, the Vicarage Fields has also hosted first class cricket matches featuring Glamorgan County Cricket Club.
AU16512