Olympic celebrations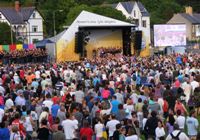 At just before seven o'clock on Sunday evening, Aberystwyth welcomed the Olympic Torch to the town, before a crowd of some 8000 people at the University's Vicarage Playing Fields.
After a journey through the counties of Carmarthenshire, Pembrokeshire and Ceredigion, the Olympic Torch was held aloft by 16 year old Kyle Thomson as it entered the field and then onto the stage to a rapturous response.

Two students and two members of staff were nominated to be torch bearers on the Ceredigion leg of the mammoth journey around Britain, leading to London 2012, which gets underway on July 27th in London.
Bridget James from the Sports Centre and Qiang Shen from Computer Science, along with Susannah Ditton, an undergraduate student from IGES ran with the torch in Aberystwyth while Shon Rowcliffe a second year student in TFTS ran through the village of Brynhoffnant.

Monday morning saw the torch in Aberystwyth town, taking in Constitution hill, down the Prom, past the Old College and then winding its way to the National Library, before departing up Penglais Hill towards Bow Street and on to Bangor.

Listeners to BBC Radio 1 will know that Chris Moyles has been in town for the special celebrations and he presented part of his breakfast show from the BBC's studios on the Campus.
Staff at Tamed Da were delighted to deliver Chris and team a wholesome Welsh breakfast to welcome them to the town, on what has been an historic sporting weekend.

AU17912