A decade of sport and exercise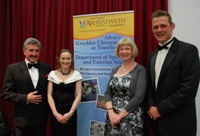 L to R: Gerald Davies CBE, Dr Joanne Thatcher, Professor April McMahon and Dafydd Jones.
Gerald Davies CBE, one of the greatest wing three-quarters ever to grace a rugby pitch, and former Scarlets and Wales flanker, Dafydd Jones, were the guests of honour at a gala dinner to celebrate the 10th anniversary of the Department of Sport and Exercise Science on Saturday 26 May.
Returning nine years after opening the Department's purpose built Carwyn James building, named after the Aberystwyth graduate and coach of the famously victorious 1971 Lyons tour of New Zealand, Gerald Davies paid tribute to the work of the Department and the University.
Addressing an audience of current and former staff and students, members of the local sporting community and research partners from the NHS, he spoke of the importance of sport as part of a university education and of its role in maintaining a civilised society.
Giving what was described by the head of Sport and Exercise Science, Dr Joanne Thatcher, as "the alternative Gregynog Lecture", Aberystwyth born Dafydd Jones spoke of how rugby had changed over the years.
Taking questions from the audience, Jones reflected on the ever increasing physicality of the modern game, the introduction of science based training regimes that include the use of cryogenic chambers, and of having to retire early after undergoing surgery to rebuild his right shoulder on three separate occasions.
Speaking after the event, Dr Joanne Thatcher, Head of the Department of Sport and Exercise Science, said: "This was an event to celebrate everything that has been achieved by the Department over the past 10 years. The focus of the evening may have been on sport, but it is important to acknowledge the contribution colleagues are making in areas such as health and how exercise plays such an important role in improving people's everyday lives – from living with diabetes to improving balance and avoiding falls in elderly people."
Amongst those in attendance were Professor Jo Doust, the Department's first Head of Department, and Mrs Penny Barrett, whose late husband, Professor John Barrett, played such an important role as Acting Head during the Department's formative years.
AU18012