World Shakespeare Festival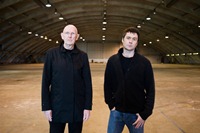 Professor Mike Pearson (left) and Mike Brooks.
Mike Pearson, Mike Brookes and Simon Banham of the Department of Theatre, Film and Television at Aberystwyth University will stage a multimedia performance of Coriolan/us this August as part of the World Shakespeare Festival.

Coriolan/us, National Theatre Wales' (NTW) 21st production and one of the highlights of the London 2012 Festival in Wales, will show at an aircraft hangar in the Vale of Glamorgan from 8-11 and 15-18 August 2012.

This is the team behind NTWs award-winning production of The Persians.

The production of Shakespeare's Coriolanus - National Theatre Wales' first staging of play by Shakespeare - will also draw upon Bertholt Brecht's 1950s adaptation Coriolan, highlighting the role of the people and the impact of conflict in and on urban populations in contemporary political situations.

Coriolanus is a tragedy written by Shakespeare based on the life of the legendary Roman leader Caius Marcius Coriolanus.

"The story of Coriolanus fascinates me because it is so unsettling, seeming always to reflect the time in which we live, yet offering no easy solutions. It demands of us that we think politically," explains Mike Pearson.

"Unlike Shakespeare's other tragic protagonists, Coriolanus is very rarely alone. He has only two soliloquies, and little room or opportunity to go away to reflect. It's all happening in the public domain, yet he refuses to perform a role for that public and to play a part.

"That and the play's very open and direct setting – there are no sub-plots, very few indoor scenes yet an ever-present crowd – make it a fascinating counterpoint to contemporary political life, with its round-the-clock news and social media, unreliable leaderships and civil unrest."

Inspired by today's era of 24-hour news, CCTV, and political instability and upheaval, co-directors Mike Pearson and Mike Brookes will build a 'theatre machine' in Hangar 858, at RAF St Athan. The audience will move around the space, creating their own version of the story according to where they find themselves and what they hear and see.

Coriolan/us is a co-production for the World Shakespeare Festival, which is produced by the Royal Shakespeare Company for the London 2012 Festival. The London 2012 Festival is the spectacular 12-week nationwide celebration running from 21 June until 9 September 2012, bringing together leading artists from across the world with the very best from the UK.

The cast includes Brendan Charleson, Jonny Glynn, Nia Gwynne, Richard Harrington, Chris Jared, Richard Lynch, Rhian Morgan, John Rowley, Matthew Thomas, Gerald Tyler and Bethan Witcomb.
AU18612