Focusing the Eye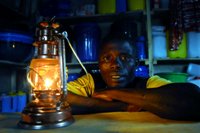 Credit: Glenn Edwards
The University's Arts Centre will be hosting The Eye International Photography Festival is to be held at the University
Acclaimed Welsh photographer Roger Tiley, well-known for his work on documenting the coal mines of Wales and America, will be among leading UK and international photographers attending a photography festival at Aberystwyth University in June (29 June – 1 July).
Held at Aberystwyth Arts Centre, a department of Aberystwyth University, the three-day Eye International Photography Festival will include talks, discussions, interviews, portfolio reviews and exhibitions.
Other celebrated photographers taking part in the event includes David Hurn from Magnum Photos, celebrity portrait photographer Cambridge Jones and Panos Pictures photgraphers Abbie Trayler-Smith and Chloe Dewe Mathews.
One of the main features of the festival will be a major exhibition from Panos Pictures, a photo agency specialising in global social issues and celebrating their 25th anniversary.
Call The World Brother exhibition will show work by their contemporary documentary photographers including Chris Keulen, GMB Akash, Robin Hammond, Andrew McConnell, and Espen Rasmussen. Other exhibitions confirmed so far include Africa Against all Odds by Glenn Edwards and work by award winning wildlife photographer Andy Rouse.
A limited number of free individual portfolio reviews are available on a first come first served basis when tickets are booked for the festival. The reviews are by Sophie Batterbury Picture Editor of the Independent on Sunday and Rob Norman Head of Images Media Wales.
Other photographers include Eamonn McCabe, former Guardian Pictures Editor; Sean O'Hagan, the Guardian and Observer photography features writer; multi award winning press photographer John Downing MBE FRPS; photojournalist Marco Longari, Chief Photographer for Agence France-Presse; and Will Troughton, Visual Images Curator, National Library of Wales.
To book tickets, visit the website on www.aberystwythartscentre.co.uk/theeye or call Aberystwyth Arts Centre on 01970 623232.

AU14012