Cartoon volunteers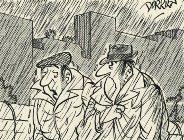 Dorrien's "What's the latest on the drought situation then?" cartoon.
The work of the well-known Western Mail and South Wales Echo cartoonist, Dorrien, will be made accessible to the public at the National Library of Wales, thanks to the help of students from Aberystwyth University.

Part of a new volunteering scheme run by the National Library, the University students will aid in providing the public with information and access to important data which would not be widely available if it were not for the work undertaken by volunteers.

This first project will see the students from the Department of History and Welsh History provide a social and political context to cartoons by the popular cartoonist Dorrien, who died in 1998.

At present, there is no way for the public to access the collection and the work undertaken by the students will result in the Library being a step closer to sharing the wealth of Dorrien's work with the world.

The Dorrien collection is divided into two sections. One section is of political cartoons, and includes the original versions of cartoons published in newspapers such as the Western Mail and South Wales Echo. The second section is of original portraits of cricketers, golfers and boxers. Between these two categories there are just over 700 items.

The students are undertaking this work as part of the 'Helping Us Achieve' plan under the direction of Gwyneth Davies, the newly appointed Volunteer Coordinator at the National Library, with the help of the Big Lottery Fund.

The students are Victoria Moore, Alice Jane Heath, Bethan Jayne Sullivan, Thomas Rhys Dunn, Hannah Jones and Aled Morgan Hughes.
AU19712