Energy advice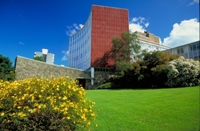 Shops struggling with the recession and rising energy costs are being offered a helping hand by local researchers.
Aberystwyth University and the Dyfi Biosphere are inviting local retail businesses to take part in one of their free workshops taking place in Aberystwyth on Wednesday 11th July and Machynlleth on Thursday 12th July.
The workshop series is designed specifically for small and medium sized retailers, and aim to help them recognise that climate change presents a real and valuable opportunity to build and sustain their businesses. Above all, the project will explore ways of helping businesses break free from the current constraints of the economic recession.
Many businesses are beginning to realise the benefits of adapting to a changing climate. However, Dr Nicola Thomas of Aberystwyth University said that more sceptical business owners are particularly welcome: "We aim to convert each 'but' into a commercial opportunity." Nicola continued, "we will commit to undertaking some climate change research specific to the needs of each business who attends a workshop, free of charge."
Business Climate is a 'not for profit' UK wide project, led by Aberystwyth University and is working in collaboration with the Dyfi Biosphere Partnership to implement the programme in the local region. They are building an online platform to help climate-proof businesses while helping them to gain a level playing field with large retailers. The workshops will also discover and strengthen the things that differentiate local shops from their competition, such as online retail and competing regions.
The free workshops will be held in Aberystwyth on Wednesday 11th July at The Cambria, Marine Terrace SY23 2AZ, with three options: a lunchtime sandwich session (12:30 to 14:30), an afternoon tea & cake session (15:00 to 17:00) or an early evening drink and appetizer session (18:00 to 20:00). The Machynlleth workshops will be held at Plas Machynlleth (SY20 8ER) on Thursday 12th July, with a choice of an afternoon tea & cake session (15:00 to 17:00) or an early evening drink & appetizer session (18:00 to 20:00).
Robin Farrar of the Dyfi Biosphere, joint organisers of the workshops said, "The sessions will be fun and stimulating, and offer an opportunity to network with other retailers as well as to explore novel and creative ways to benefit from a changing climate." There will also be a chance to get a first preview of what the Business Climate platform will look like, and retailers will be able to suggest any changes so it better meets their needs.
As booking is essential, interested businesses can book a place by visiting www.businessclimate.co.uk/dyfi-mid-wales. Alternatively, they can text or call Dr Nicola Thomas on 07727 940 517 or call Robin Farrar at the Dyfi Biosphere Partnership on 01654 703965.
The Business Climate project is funded by the JISC Business and Community Engagement programme, and is part of the Access to Resources and Open Innovation (Phase 2) portfolio. For more information on Business Climate, please visit www.businessclimate.co.uk
What are UNESCO Biosphere Reserves?
There are 580 UNESCO Biosphere Reserves in the world, but the Dyfi is the only one in Wales. It is the only one in the world with a completely bilingual name: Biosffer Dyfi Biosphere.
A Biosphere Reserve is an area in which people work to balance the conservation of biodiversity with its sustainable use. They are nominated by member state governments and must fulfill three basic functions:
A conservation function - to preserve genetic resources, species, ecosystems and landscapes
A development function - to foster sustainable economic and human development
A logistic function - to support research, monitoring, education and information exchange related to local, national and global issues of conservation and development
For more background information about Biosffer Dyfi Biosphere visit: www.dyfibiosphere.org.uk
AU21512