Oldest graduate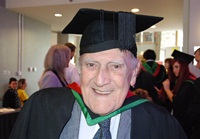 Roger Roberts.
At the age of 82, Roger Roberts is the oldest person to graduate this year from Aberystwyth University with a Bachelor of Economic and Social Studies in International Politics.
Roger, who lives in Aberystwyth, graduated today (Tuesday 10 July) after studying for his degree over a four-year period. It took him longer than usual to complete his degree because Roger suffered from ill health during the last couple of years of study.
He explains, "I suffer from chronic asthma and so it took me longer than expected to finish the degree, but I'm delighted to have finally made it! I am looking forward to the ceremony and I have thoroughly enjoyed my time here."
Roger, who spent his career in the health service, is no stranger to the University. This will be his second degree – in 2005 he graduated with a BA Hons in American Studies.
Roger adds, "I retired in 1993 but worked part-time for some years before retiring completely in 2001. That's when I got the idea of studying at the University. I thought to myself – this wonderful facility is on my doorstep and I should really be studying for something rather than wasting my time at home.
"However, there won't be any more studying now! I'm going to sit back, relax and enjoy my retirement!"
Professor Michael Foley, Head of the International Politics Department, said, "Roger was born in 1929 making him only ten years younger than the Department of International Politics itself.
"Although he had some health issues over the last two years, he continued to produce academic work of great quality. His graduation this year is an achievement that has earned him great respect and the admiration of everyone within the Department. It also shows that age need not confine personal ambition and that it is never too late to strike out in new directions."

AU23912