Christopher Williams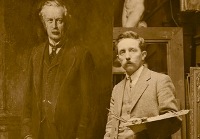 Christopher Williams working on a portrait of Lloyd George.
A major exhibition of works by Christopher Williams (1873-1934) was opened by former Labour MP and Government Minister Kim Howells at the National Library of Wales on Saturday 14 July.

Curated by Robert Meyrick, Head of the School of Art, the retrospective draws from previously untapped archives, private and public collections, and is the most comprehensive exhibition to date of the Maesteg born artist's impressive body of work. It runs until 22 September.
The artist is best known for his imposing biblical and mythological subjects, such as his scenes from the Mabinogion: Ceridwen (1910) which forms part of the exhibition, Branwen (1915) and Blodeuwedd (1930).
According to Robert Meyrick, "Christopher Williams was a very highly regarded artist in his day. In 1911 he was commissioned by King George V to paint the Investiture of Edward, Prince of Wales, at Caernarfon Castle. During the First World War, he painted the Welsh Charge at Mametz Wood. He also painted five portraits of David Lloyd George.
"Although he built his reputation on commissioned portraits of politicians, academics, and men of the cloth, it's the spontaneous paintings he made of the Welsh coast, some of which have never been seen before, that give us an insight into the artist's personality and his love of Wales."
Lloyd George described Christopher Williams as "one of the most gifted artists Wales has produced."

AU24212