Aberystwyth University at the National Eisteddfod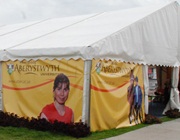 Aberystwyth University Stand at the National Eisteddfod
There will be a variety of talks, lectures and interactive activities to suit all ages and interests at the University's stand at the National Eisteddfod this year. In addition we will also have computers available so visitors can access the internet all week for free.

If you are a school pupil you are welcome to come along and ask questions about the University, or come to reminisce if you were a student at Aberystwyth. Teachers are also welcome to drop in and discuss study opportunities at the university with staff. You can be guaranteed of a warm welcome!

Win a mountain bike worth £325!
To celebrate the inclusion of Aberystwyth University on the official list of training centres for mountain biking for the London Olympics in 2012 we are running a competition were you can win a Trek 3700 mountain bike. All you need to do is visit the Aberystwyth University stand at the Eisteddfod and answer a simple question. The winner will be announced at about 4:30 Friday afternoon.
Programme of the Week

Monday - August 6
2.30pm Seals in Wales and the Marches in the Middle Ages
A brief introduction and demonstration exploring medieval seals and offering an insight into the politics, law, gender and religion of the time.
Tuesday - August 7
11am Rock and Pop: Pantycelyn's Influence
A trip down memory lane or rather along the corridors of Pantycelyn; home to many iconic musicians and groups throughout the decades. Call at the stand to hear more about Pantycelyn's contribution to the Welsh music scene past and present. The panel includes:
Gwyn Williams (Doctor), Rhys Harris (Trwynau Coch) and Gruff Pritchard (Yr Ods), and chaired by Sion Jobbins.
2pm University Challenge
Test your general knowledge. Two teams face each other, the staff members versus the former presidents of Aberystwyth Welsh Students Union - UMCA. Keeping an eye on proceedings will be the historian, writer and broadcaster Dr Russell Davies.
Wednesday - August 8
12pm Launch of Aberystwyth Students' Welsh language newspaper - Yr Heriwr
The official launch of a new Welsh language newspaper, which will be published by the students every term, focusing on the University, the locality, Wales and the world. The initiative is voluntary and the paper is free to all.
2-4pm University Alumni Reception
The reception will be held in collaboration between the Alumni Association and the University. This is a great opportunity for anyone who has studied at the University to meet at the Eisteddfod. This year the guest speaker will be Dr. Dylan Elfyn Jones, former student, headmaster at Ysgol Gyfun Bro Morgannwg  and Chair of the Vale of Glamorgan 2012 National Eisteddfod Executive Committee. Refreshments will be provided. Welcome all!

Thursday - August 9
11pm Leader in a changing world? Climate Change Activity in the            Government of Wales
Dr. Elin Royles, Lecturer in Welsh Politics will discuss Welsh Government policy on climate change. There will be an opportunity for discussion from the floor and light refreshments after the meeting.
12pm Poetry slam between Aberystwyth and Bangor Universities
Last year's competition was a big hit in the Eisteddfod in Wrexham. The two teams of lecturers, students and alumni will challenge one another under the watchful bardic eye of the poet and Aberystwyth University Fellow, John Gwilym Jones.

Friday, August 10
11.30am Translation Challenge 2012
The Translators' House Wales Translation Challenge 2012 judge, Mererid Hopwood, will declare the winner of the Challenge and present him or her with a bardic staff. The staff has been specially carved from a piece of wood from the Llanystumdwy area and is sponsored by the Association of Welsh Translators.
2-4pm Midsummer Reunion
If you are a current student at Aberystwyth University, then come and enjoy a Midsummer Reunion with your friends! There will be entertainment by Catherine Herbert, with light refreshments. This is also a great opportunity for prospective students and their families to come and meet current students and staff and ask questions about university life.
4.30pm Announcing the winner of the Mountain Bike
If you entered the competitions for the bike, remember to call over and who knows you may be riding into the sunset on it that Saturday night!

Whatever the weather you can be sure that the University is welcome on a warm stall. The drinks are free, and you are very welcome to come to talk with University staff over a cup.

AU25512