A literary grand slam for a former student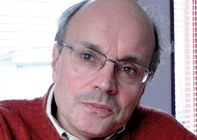 Dylan Iorwerth
It was revealed that Dylan Iorwerth, who is the Managing Editor of the companies that include Golwg, Wcw a'i Ffrindiau, Lingo Newydd and the online news service Golwg360, was the victor in the Chair competition in the Chairing ceremony in the National Eisteddfod of the Vale of Glamorgan on Friday the 10th of August 2012.
With this success, Dylan completed a literary form of grand slam, since he has already won the National Eisteddfod Crown in Llanelli in 2000, and the Prose Medal in Eryri in 2005.
The task set in the Chair competition this year was to compose a series of poems in cynghanedd (the strict meters of Welsh poetry) of no longer than 250 lines, on the topic 'Llanw' (High Tide). 10 competed, and the three adjudicators, Mererid Hopwood, Huw Meirion Edwards (Senior Lecturer in the Welsh Department in Aberystwyth University) and Ieuan Wyn, decided that "Owallt" (Dylan's nome de plume in the competition) was deserving of the Chair this year.
The poems in the series were inspired by the passing away of Dylan's father, Thomas Edward Jones or Twm Glasbwll, earlier this year. They were written in memory of him, and as a result of this, they are also a tribute to the poet's mother, Gweneirys, who lives in Caernarfon.
Even though the poems are a mixture of the imagined and the real, they are all based on the poet's experience of being with his father during his last months. In addition to the high and low tides of an individual's life, the broader background of the works is the high and low tide of life itself, and the continuation from generation to generation.
Mererid Hopwood, herself a graduate of Aberystwyth University, said, whilst presenting the adjudication, that the individual poems were all complete in their own right and yet also worked together to create an entire thematic work.
Dylan's nephew, Rhys Iorwerth, won the Chair in the Wrexham National Eisteddfod last year, and Rhys read a praise poem to his uncle during this year's Chairing ceremony. After the ceremony, Dylan revealed that he also came second to his nephew in the Chair in Wrexham last year.
Congratulations to him on his success.

AU27612