'Don't Panic' guide to Clearing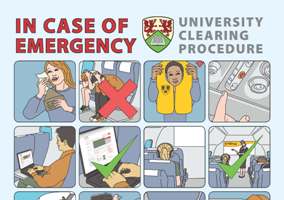 University Clearing 2012 - Emergency Procedure
Have you received your A Level results today? Daunted by the prospect of going through Clearing? There's no need to worry because Aberystwyth University has created a video guide to help you navigate your way through this difficult time.

The video can be viewed on the University's website http://bit.ly/Q9A1Sm and provides advice and tips on what to do immediately after receiving your A Level results until a place at university has been secured.

David Moyle, the Schools & Colleges Liaison Manager at Aberystwyth University, explains, "We understand that going through clearing can be a stressful time for some. We want to make the process as easy as possible and help them in their search to find the right course.

"The best advice during clearing is not to panic. It's vital to research thoroughly the options available and then move quickly to secure a place on the course of your choice and at your favoured university. Throughout the clearing period, colleagues will be on hand to answer your questions."

For those wanting more information on the clearing process and on what to do on A Level results day, visit our comprehensive web-site at www.aber.ac.uk/info/wmclear

There are 8000 undergraduates studying full-time at Aberystwyth, a third of whom are from Wales, around six in ten from the rest of the UK and Ireland, and the remainder from the rest of the world.
AU24112