Hugh Rees Memorial Lecture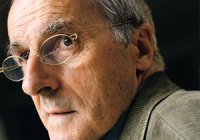 Professor Steve Jones
Eminent geneticist Professor Steve Jones will deliver the 3rd Hugh Rees Memorial Lecture at the Institute of Biological, Environmental and Rural Sciences at Aberystwyth University on Monday 15 October.
Professor Jones is ex Head of the Department of Genetics, Evolution and Environment at University College London and is a member of the IBERS External Advisory Board.
He is also a television presenter, a prize winning author on the subject of biology and one of the most popular contemporary writers on evolution.
The lecture, entitled "Incest and folk dancing: two things to avoid", will be delivered at the Biology Main Lecture Theatre, IBERS on the Penglais campus and starts at 7p.m.
The lecture is named in honour of Professor Hubert (Hugh) Rees DFC, FRS, a leading geneticist and decorated wartime pilot. An Aberystwyth graduate (Agricultural Botany), Professor Rees went on to become Head of Department and Vice-Principal of Aberystwyth University.

AU35612