BRIT 2012 Challenge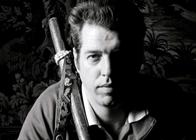 Phil Packer MBE
Having already completed over 1,600 miles out of his epic 2,012 mile "BRIT 2012 Challenge" walk, Phil Packer MBE will visit Aberystwyth University on Wednesday 17 October 2012.
Phil is doing the challenge after suffering a severe spinal cord injury in 2008 and having been told he was unlikely to walk again; walking 8-10 miles for Phil is the equivalent of over a marathon for a person without a spinal cord injury.
Phil will address students at Aberystwyth Students' Union at 1.00p.m., before moving on to the University's running track, next to the swimming pool, where he will start a two mile walk at 2.15p.m.
Phil proves time and time again that "Everything is possible," in line with the motto of his charity – the British Inspiration Trust (BRIT), as he aims to raise £15 million to build the BRIT Centre of Inspiration for young people facing adversity.
When he finishes in December, Phil will have walked the equivalent of approximately 310 Marathons in 330 days. BRIT marks Phil's 'new life' dedicated to the cause of young people who face adversity. The charity operates through gifted support due to its minimal overheads and the fact the Phil draws no wage.
During October Phil will have walked in every county of Wales. He will return to London in December for his final month when he will walk in each of the 33 London Boroughs before completing his 2012 miles at Canary Wharf.
As part of the BRIT 2012 Challenge, Phil has set out a number of aims which include raising awareness of the British Inspiration Trust, a charity he founded to help young people facing adversity to regain self-worth, self-belief and self-confidence, and meet and inspire young people facing physical and mental adversity, deprivation, medical conditions, injury and also young carers.
Rebecca Davies, Pro Vice-Chancellor for Students and Staff at Aberystwyth University said: "Phil's story is truly inspiring and we look forward to welcoming him to Aberystwyth University. His achievements over the past four years, which include rowing the English Channel, walking the London Marathon and climbing El Capitan, speak volumes for his determination and dedication to improving the lives of others. The opportunity of hearing about his experiences first hand and walking with him on campus will be a privilege for all concerned."
Jess Leigh, Education Officer at Aberystwyth Students' Union said: "It will be a pleasure to welcome Phil on behalf of Students' Union. I'm sure that his achievements will prove to be motivational for everyone."
Speaking ahead of his visit to Aberystwyth University, Phil said: "My work supporting other charities over the last four years and meeting young people facing adversity identified the importance of regaining self-belief, self-confidence and self-worth. The mental and psychological challenges of facing adversity are immense, and meeting positive role models and inspirational figures who are willing to spend time with young people is a stepping stone to overcoming adversity. My vision is for a centre that serves young people and brings charities and their best practice together, helping our youth to decide what they want to achieve in life and how to do it."
Further information about Phil Packer MBE, the British Inspiration Trust and the BRIT Centre of Inspiration is available online at http://www.britishinspirationtrust.org.uk/.
AU35512