Challenging stress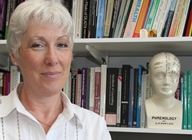 Dr Kate Bullen
To support National Stress Awareness Day on Wednesday 7 November, Aberystwyth University will be holding a well-being trail on Penglais Campus for staff and students which will include activities such as meditation and massage sessions, a drop-in health check and stress releasing exercises.

The Trail encompasses nine venues on Campus which includes Penbryn 5, Hugh Owen Library, Arts Centre, Student Union, Carwyn James Building, Sport Centre, TaMed Da, Student Welcome Centre and the Visualisation Centre. A map showing the trail can be found here: http://www.aber.ac.uk/en/psychology/latest-news/news-article/title-123228-en.html

Each venue will offer a different service such as studying and relaxation tips at Hugh Owen Library, a drop-in health screening session at the Carwyn James Building, a yoga session at the Student Union and a special menu at TaMed Da to showcase foods that help relieve stress.

Kate Bullen, Head of the Psychology Department at Aberystwyth University, explains, "One in four people suffer from mental health problems in the UK - more people than we think. However, very often, people will not acknowledge and discuss their concerns because of the stigma still attached to mental health issues.

"Too much stress can contribute to a range of health problems including headaches, stomach upsets, sleeping problems, concentration issues, high blood pressure and even stroke or heart disease. It can also cause feelings of distrust, anger, anxiety and fear, which in turn can damage relationships at home and at work."

During the day, representatives from Mind Aberystwyth and Time to Change Wales will also be on hand at Penbryn 5 to answer questions and provide individuals with information on the support that is available to anyone experiencing stress or mental health related problems.

As well as external companies, the University's Career Advisory Service and Human Resource staff will also be on hand to provide support and advice to staff and students.

"The idea with this day is to get people thinking about their overall well-being and to possibly discuss any issues or concerns they might have in a friendly environment and with people who will understand their situation," Kate Bullen adds.

"The aim is to reach out to our staff and students and inform them of what support and advice is available at the University and within the wider community."

Other activities planned throughout the day will include a meditation, hypnotherapy and massage session at the Sports Centre, stress releasing exercises at the Student Welcome Centre and information by HR staff on new counseling services at the Visualisation Centre.

One of the successful campaigns being run by Mind Aberystwyth is the Mental Health First Aid course. Several Aberystwyth University staff members have gained this qualification which enables an individual to deal with the first signs of someone developing mental ill health and guide them towards seeking appropriate help.
AU35812