Antiques Roadshow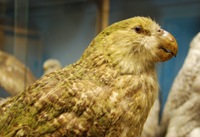 George the Kakapo
Aberystwyth University's Arts Centre will feature once again on the Antiques Roadshow this Sunday 2 December at 8pm, and the star of the show is set to be George the parrot from the University's zoology museum.   

This will be the second Antiques Roadshow programme to have been transmitted from the Centre - the first was shown on Sunday 6 November 2011 – making it the final part in what was a successful day with the BBC crew and the local community.

The Kakapo parrot, also known as an owl parrot, came to the University as part of a collection from the Earl of Lisburne's nearby estate in Trawsgoed in the 1900s. The Kakapo is a very large flightless parrot and is native to New Zealand, but now only exists on specially protected islands.

Dr Rupert Marshall, lecturer in animal behaviour at the Institute of Biological, Environmental and Rural Sciences (IBERS) explains, "Antiques valuer Adam Schoon, was fascinated by George and he was by far the star of the show!

"Adam Schoon was almost certain that the parrot was prepared by the famous Aberystwyth taxidermist, James Hutchings. Our zoological collection, which is housed in IBERS, is a unique and vital resource for teaching and is frequently used by our students."

James Hutchings began working in Aberystwyth in the 1860s and the Hutchings family was perhaps best regarded as one of the best and most prolific provincial taxidermists.

The two editions of the ever popular Sunday evening programme were filmed at Aberystwyth Arts Centre on Thursday 9 June 2011, where two thousand people came through the doors to receive advice and valuations on family heirlooms, household treasures and car boot bargains.

Louise Amery, Deputy Director of Aberystwyth University's Arts Centre adds, "We really enjoyed having the Antiques Roadshow at the Arts Centre. We are especially grateful to the team of local volunteer stewards who worked tirelessly all day to guide visitors around.

"It was a beautiful sunny day so Aberystwyth looked at its very best and there was also a warm and friendly atmosphere at the Centre. The programme's antique experts were very generous with their time and we hope they will be able to come back here to film again in the future!"

Along with some of Britain's leading antiques and fine arts specialists, the popular presenter Fiona Bruce, was also on hand throughout the day to talk to a few of Aberystwyth's interesting characters.
AU40512