What's going on in Greenland?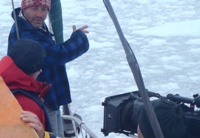 On board Gambo during the filming of Operation Iceberg
Aberystwyth University glaciologist, Dr Alun Hubbard, will be speaking about his on-going research in Greenland and filming for David Attenborough's Frozen Planet and more recently, the acclaimed two part series Operation Iceberg, in a public lecture on Wednesday 5 December.
In "Operation Iceberg: What's going on in Greenland?" Dr Hubbard will also discuss the stability of the Greenland Ice Sheet, which is the second largest body of ice in the world, and what it might mean for sea level rises.
The lecture takes place at Aberystwyth University's Arts Centre Cinema at 6pm.
Originally from Borth, Dr Hubbard has recently returned after overseeing the "freezing in" of his research vessel Gambo near the Store glacier in west Greenland.
Braving temperatures as low as minus 40 degrees celsius, he and his team are taking it in turns, spending three months on the ice at a time, as they try to understand how the ocean interacts with glaciers in the depths of winter.

"We think that what goes on in winter is fundamental to the ice breakup in summer", he explains. "Most people assume that there is very little action once the sea freezes over. Our aim is to find out what really happens."
Dr Hubbard will be returning to Greenland at the end of the winter, in time for when the sea ice begins to melt and giant icebergs are formed once more.
AU40312