New Chair in Rural Health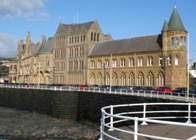 The Old College
Aberystwyth University, the University of Wales Trinity Saint David and Hywel Dda Health Board have joined forces to establish an innovative and unique chair in rural health.

The role of Hywel Dda Reader/Chair of Rural Health and Community Wellbeing - the first such position in Wales – recognises the unique opportunity available to the NHS and local universities in West Wales to work in partnership and redefine how policies and services can improve the health and wellbeing of those living in rural communities.

Despite accounting for over a quarter of the country's land mass, the Hywel Dda area contains only 13% of Wales' total population.  Coupled with an ageing population, the number of people aged 75 or over is expected to increase by 75% by 2031, and one in three adults in Wales living with a long-term condition such as asthma or diabetes, it has never been more important to identify what our more rural communities need to live longer and healthier lives.

The successful applicant will bring a wealth of experience and knowledge of rural wellbeing and/or health economics to the region and will be responsible for leading research and policy development covering many different areas such as access to technology both in the home and in the community, the impact of lifestyle and economic factors, to improving integrated transport systems and developing patients' knowledge of their condition and self-care.

Trevor Purt, Chief Executive of Hywel Dda Health Board says:  "We recognise the unique challenges of our large rural geography, but far from seeing this as a problem; we see it as an opportunity to evolve how we work in partnership with Universities, voluntary organisations and local authorities to meet the specific health needs of our rural communities.

"This position is about ensuring our services work for the people we serve and will enable us to deliver a new type of healthcare provision in a real rural area, with real people, every day."

The successful applicant will be employed jointly by Aberystwyth University and the University of Wales Trinity Saint David and co-located at the Institute of Human Sciences at Aberystwyth University and Trinity St David Lampeter.

Prof Martin Jones, Pro Vice Chancellor of Aberystwyth University says:
"This is a unique opportunity to make a demonstrable contribution to major health and social care policy and practice and/or policy changes through the application of research. The universities are keen to be at the forefront of new sustainable ways of thinking about health, wellbeing and rural regeneration and are looking to work with the successful applicant to consolidate new research and development opportunities in beautiful West Wales."

Jane Davidson, Director of the Wales Institute for Sustainability at Trinity Saint David University says:
"We are delighted to be working together in partnership with Aberystwyth University and the Hywel Dda Health Board to advance knowledge and influence future policy development of sustainable health and health services in rural communities. Our communities currently face a number of important challenges including changes in demography and changes in the nature of health care provision."

Applications for the post of are now being invited. Full details are available online here. Closing date for applications is Tuesday 18 December 2012.
AU42012