Aberystwyth Book Festival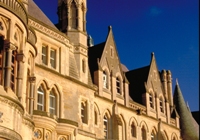 The Old College
Come and enjoy Aberystwyth Book Festival co-organised by Aberystwyth University's Information Services, students from the Department of Welsh and Ceredigion Library, Aberystwyth.
There are competitions to enter, prizes to win and a host of festive, bookish fun for the entire family taking place on Monday December 10 between 10 am and 8pm.
The day's events will begin in Ceredigion Library, Aberystwyth and culminate at Aberystwyth University's main library, Hugh Owen Library on Penglais Campus. There will be a series of English and Welsh language events to celebrate all things reading, writing, publishing and libraries!
Everybody is warmly welcomed to enjoy a full and varied programme of events and activities.
There will be English and Welsh writers, editors and publishers from Ceredigion and beyond taking part.
Amongst the line up are Lorraine Jenkin, a winner of the Peoples Book Prize 2010 for her novel Cold Enough to Freeze Cows, and the Welsh-language Children's Poet Laureate for the year 2011-13, Eurig Salisbury, both of whom will run workshops at Ceredigion Library during the day.
At 4pm the event gets under way in the Hugh Owen library with events including talks from poet Nigel Humphreys, authors Gwenan Evans, Cyril Jones, Karl Drinkwater and Simon Garrett.
Children's Laureate Eurig Salisbury will talk about his work, as will the Daniel Owen Prizewinner Robat Gruffydd and Gwen Davies from New Welsh Review will interview Chril Keil, whose third novel Flirting at the Funeral has just been published.
Dalen Books, publishers of a range of Celtic Graphic Novels, including Asterix in English and Welsh, will talk about what goes into creating graphic novels and you can watch exclusive recorded interviews with Caitlin Moran and Mihangel Morgan.
There will also be plenty of opportunities for you to get involved. Meet editors and publishers and buy books direct from the authors. Develop your writing skills with 10 minute creative writing sessions from one of Aber's Royal Literary Fellows, Heather Dyer.
Put your writing skills to the test with our writing competitions: enter our Flash Fiction 500 or Twitter Tales competitions for your chance to win a selection of prizes, including a an Android 7" Tablet PC, a selection of signed books and literary magazine subscriptions – for full terms and conditions and details of how to enter please see: http://www.aber.ac.uk/en/is/news/2012/book-festival/
With mulled wine and mince pies, start your Christmas at Aberystwyth Book Fest 2012!
For more information about the festival, including the programme please visit http://www.aber.ac.uk/en/is/news/2012/book-festival/ or www.ceredigion.gov.uk/libraries or email abigailc@ceredigion.gov.uk
The Welsh language strand has been organised by students from the Department of Welsh. WE gratefully acknowledge sponsorship and support from the Welsh Government and CyMAL, New Welsh Review, Planet Magazine, Siop Inc, Dalen, NLW and Aberystwyth University.
AU41512