Christmas card winners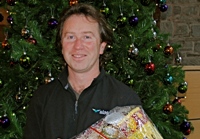 Kevin Williams, winner of the Christmas card competition
It is announced that Kevin Williams, a PhD student at the Department of Computer Science, is the winner of the University's 2012 Christmas card competition, with his photograph of Aberystwyth through wintry branches.

In close second came Holly Brookes with her snowflake and Elizabeth Salmon with the Old College through the shape of a cross.
Kevin said, "I'm delighted to have won this competition. I took the photo about a week before Christmas 2010. I remember we had about four inches of snow overnight. The University was closed due to weather so we ventured up Constitution Hill to create snow angels and take some pictures. This was quite an unusual event so close to the sea and we even built a snowman on the beach!"
Three Christmas cards were created with Kevin, Holly and Elizabeth's designs and can be purchased from the desk at Hugh Owen and the Craft & Design Shop at the Arts Centre (35p, 40p or £ 2.40 for eight). Kevin's picture is also available as an e-card here www.aber.ac.uk/christmas-card/
Jess Leigh, education officer in the Students' Union and a member of the judging panel, said: "We had to create two shortlists before deciding on the winner and the two runners up. Thank you to everyone who took part and congratulations to Kevin. His picture perfectly captures a white Christmas in Aberystwyth. "
First prize was two tickets to The Dreaming Beauty at the Arts Centre and a Christmas hamper donated by Castell Howell Foods Ltd. through the University restaurant, TaMed Da. A £10 voucher to spend at the Arts Centre was given to one runner up and admission to Fit & Well at the University Sports Centre (an opportunity to attend any class in the three week programme) to the other.
AU43712