Britain's youngest football manager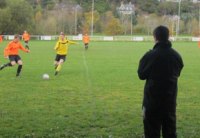 In play, Dave looks on as his team challenges for the ball
A second year human geography student at Aberystwyth University has been made the first team manager of Dolgellau Athletic, making him the youngest manager of a senior football team in the history of British football.
19-year-old Dave Webber from Bristol started coaching two years ago when he was given the chance to do his FA Level 1 coaching qualification through his job as a youth worker teaching children between aged between 5 and 13.
He explains, "Since then, I've gained my level two coaching qualification and aim to get my third level certificate next year. I'm thoroughly enjoying my role as manager at Dolgellau.
"We lost a lot of players this season and so the team is very young and therefore the results haven't been great to date, but with some hard work and perseverance, I'm confident the results will come in the New Year.
"Being a manager has been a steep learning curve but it's exciting and its providing me with bags of experience which is what I need to develop and improve."
During the week, Dave is busy studying at Aberystwyth University. He decided to study here because of the reputation of the Institute of Geography and Earth Sciences at the University.
He adds, "A major factor in deciding to come to Aber was the reputation of the department but also its charm and I liked the idea of studying in a smaller town by the sea.
"I've made a good bunch of friends in the short time I've been at Aber. I also play football socially for a Digs League team called Aber Kadabra, which is a lot of fun.
"I'm not sure what I'll do with my career in future, but one thing I do know is that football and coaching will be a part of my life in some way – whether it's a hobby or a full-time job."

AU44812