Improving farm efficiency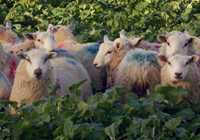 Lambs
Academics at the School of Management and Business at Aberystwyth University have devised a new function that will help Welsh famers measure the efficiency of their business.
This new lamb efficiency calculator, produced by the University for Hybu Cig Cymru (HCC - Meat Promotion Wales), will help Welsh famers evaluate the performance of their flock and compare it against other Welsh sheep enterprises.
Last year, HCC and the University announced that they had devised a new online calculator to help famers decide how and when to achieve the best prices for their lambs.
This has been developed thanks to the research of Dr Nishikant Mishra, Lecturer in Supply Chain Management at the School of Management and Business, and the expertise of Wyn Morris, Teaching Fellow in Management at the University.
Mr Morris explains, "We are not asking farmers to make major changes to their production systems. This calculator aims to raise awareness and assist farms with on farm decisions. Minor alterations to a production system can make significant impacts to farm profitability and improve enterprise efficiency."
This latest addition is one of seven calculators available on the HCC website which also includes calculators for cost of lamb and beef production, winter forage and calving to help farmers evaluate their business performance.
Dr Mishra's research focuses on mathematical modelling, and developing heuristics and algorithms for manufacturing, planning and scheduling problems. Wyn Morris was a researcher at IBERS before joining the School of Management and Business and also runs his own farm. The calculator was the result of world-class research and an in-depth understanding of the farm economy.
The calculator was produced by the School of Management and Business for HCC through funding received from the Rural Development Plan for Wales 2007 - 2013. The calculator can be found at HCC's website: http://hccmpw.org.uk/farming/online_benchmarking/lamb_efficiency_calculator/
AU10412