Aberystwyth Arts Centre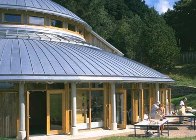 Aberystwyth Arts Centre
Statement issued on Sunday 24 March by Aberystwyth University.

Many of you will have read speculative press coverage recently about the Arts Centre and about two of our University's employees in the local press; we were very disappointed by this coverage.
We have a duty of care to all of our staff and we take this obligation very seriously. The University does its utmost to ensure that staffing matters remain completely confidential at all times and has a general policy not to make public any information relating to individuals. We remain resolutely committed to this and therefore will not be drawn into any discussion regarding members of University staff.
Questions have also been raised about the University's commitment to public facilities at the Arts Centre. Let me set the record straight.
The Arts Centre is not closing. There is no plan to radically change its use to alienate or exclude any member of the community. The Arts Centre, since its inception forty years ago, has always been a core element of the University and will continue to be a fantastic asset to the community and University alike. We do not recognise the suggestion that 'big changes' are planned.
The forthcoming Arts Centre Strategic Plan, which has been approved by the Centre's own Advisory Board and the University's Council, makes it clear that our intention is to continue providing excellent facilities, performances, courses and events for our broader community. The University's own Strategic Plan quite properly stresses our central importance for the local community, and vice versa. At a time when we have recently appointed two Professors of Public Engagement and are making plans for an Open Day to welcome the town, it would be bizarre indeed if we were then to retrench from these commitments. Quite the reverse!
However, it is true to say that spaces in the Arts Centre are not fully used – when a performance or event is coming into the Great Hall, for example, it may not be needed until the early afternoon, and there is plenty of scope to explore using it for teaching on some mornings. The same is true of the Cinema; when films aren't scheduled to show, it's an excellent venue for public lectures or meetings for staff. It should be no surprise that a University should wish to offer the very best facilities it can to its students. This does not challenge the use of the Arts Centre for the public of Aberystwyth and mid Wales; it simply means improving the use of space which would otherwise be standing empty, so the Arts Centre becomes even more busy, bustling and multi-functional. Greater use by the local community, which includes our students and staff, will ensure that the Arts Centre continues to thrive.
The Arts Centre celebrates its 40th anniversary in 2013 and we look forward to exciting and hugely creative times ahead.
I thank you, and everyone else who has contacted me either directly or indirectly, posted on social media or expressed their views otherwise, for your interest in and affection for the Arts Centre – this is crucial to its continued success. I look forward to seeing you making the most of our excellent facilities very soon.
Professor April McMahon
Vice-Chancellor