Ethics of journalism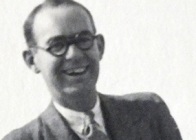 Gareth Jones
American professor of journalism Ray Gamache will mark the 80th anniversary of reporting of the Ukranian Holodomore by Aberystwyth University alumnus and journalist Gareth Jones in a lecture at Aberystwyth University on Monday 17 June 2013.
A former journalist himself, Professor Gamache is a member of the department of Mass Communications at King's College, Pennsylvania.
In his lecture "Gareth Jones: From Aberystwyth to the Ukrainian Holodomor - The Ethics of Journalism", Professor Gamache will explores the ethical dimensions of famine reporting, as evidenced in the newspaper articles by Gareth Jones following his trip to the USSR in March 1933.
A native of Barry, South Wales, Gareth Richard Vaughan Jones worked as a Private Secretary for Foreign Affairs to Lloyd George and was present in Germany on the day Adolph Hitler was made Chancellor.
Jones reported on the famine that struck the Ukraine in 1932/3 which caused the deaths of millions. He himself died in mysterious circumstances in Inner Mongolia in 1935, on the eve of his 30th birthday.
Prfoessor Gamache is the author of several books, including A History of Sports Highlights: Replayed Plays from Edison to ESPN, which was published in 2010 by McFarland Publishers, and The Water Is Wide: Notre Dame College's Journey, 1976-2000, published by the Luceat Press. He has also edited a number of books, including Under the Bridge: Stories and Poems by Manchester's Homeless and The Living Fire: Selected Poetry of Leo E. O'Neil, 1973-1997. His research interests include sports media and journalism history.
The lecture is open to members of the public and takes place in the Cinema at Aberystwyth Arts Centre at 6.00p.m. on Monday 17th June 2013.
au19413