First community day a resounding success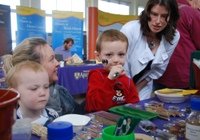 Luned Roberts (right) from IBERS with some local residents at the University's Access All Areas community open day.
More than 400 visitors attended Aberystwyth University's first community open day, Access All Areas, which was held on Saturday 22 June.
A wide variety of activities, exhibitions and demonstrations were on show during the day, which highlighted the exciting work taking place at the University, and the individuals involved.
The BeachLab event at the Bandstand also proved to be a real success drawing families and individuals fascinated by the Computer Science Department's robots and the robotic orchestra, made of discarded instruments and controlled by two tiny Raspberry Pi computers.
Many also took advantage of the guided tour of the new National Plant Phenomics Centre, housed at the University's Institute of Biological, Environmental and Rural Sciences (IBERS) in Gogerddan.
Other activities included live music performances, micro-classes, tours, experiments, sports taster sessions, culinary demonstrations, face painting and web games.
Aberystwyth University's Vice-Chancellor, Professor April McMahon, explains: "We are delighted with the response to the University's first community open day and I would like to thank everyone who made the day such a success. Access All Areas was all about opening the doors of the University to the local community and offering the opportunity to learn a lot more about some of the fascinating research that is done here and the services we provide. We now look forward to building on this year's excellent event for future community open days."
The Arts Centre's MidMad festival, a free annual music event on the chapel court stage, also proved a big hit among local residents and music lovers.
A total of 3000 people attended the event throughout the afternoon and evening, enjoying free live music out on the MidMad stage. Bands performing included The Bhagdaddies, PigBag and Sound Assembly, whilst the Bandslam competition for local bands was won by Arms Like Legs.


AU22613