New Pro Vice-Chancellor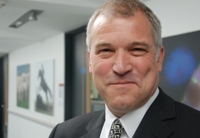 Professor Chris Thomas
Professor Chris Thomas has been appointed Pro Vice-Chancellor at Aberystwyth University with responsibility for Research and Academic Quality.
The appointment was confirmed by the University's Council on Monday 24th of June and is central to the delivery of the University's ambitious five-year Strategic Plan.
Professor Thomas currently holds the Chair in Ecological Modelling in CIRRE (Centre for Integrated Research in the Rural Environment) and was appointed to the post in 2007 as part of the Aberystwyth/Bangor Strategic Alliance.

He is former Director of International Development at IBERS and in his new role, will be Professor of Zoology at IBERS.
As a member of the University's Executive, Professor Thomas will play a key role in providing leadership for the robust delivery of academic quality processes, leading on ways in which academic quality can be further embedded into the academic life of Aberystwyth University.
He will also be responsible for developing and articulating the University's strategy in respect of research and lead the University preparations for the REF and its approach to impact, embedding it at the heart of all research activity.
Professor Thomas is an established researcher and has a strong track record of both research income generation and output. He has a leading reputation in interdisciplinary research to tackle complex problems in ecology, environment and health: current projects include malaria transmission in Africa and livestock disease and climate change in Europe.
He said: "I am ambitious for Aberystwyth University and its contribution to society as a thriving centre for high quality education and research. In a rapidly changing world there are many challenging problems and I am passionate about the role a research led university like ours can play to tackle these.
"Aberystwyth has a really great mix of institutes and departments that gives us the potential to make a real impact in new areas as well as our established strengths. Interdisciplinary working is key and that needs creative thinking; not just by academic staff - students have an important role to play too. I'm really looking forward to sharing ideas and helping us deliver".
Professor April McMahon, Vice-Chancellor of Aberystwyth University said: "I am delighted to confirm the appointment of Professor Chris Thomas as our new Pro Vice-Chancellor. His track record here at Aberystwyth and vision for the future are highly compelling and will be key to delivering our Research and Academic Quality objectives.
"There were a number of strong candidates for the role, providing further evidence of the wealth of talent we have within the University.
"We have an ambitious vision and his appointment demonstrates our commitment to delivering effective quality assurance which places our students at the heart of everything we do as well as building on the ground-breaking and excellent research which is already taking place here at Aberystwyth University."
Professor Thomas will take up his new role in August 2013.

AU22313